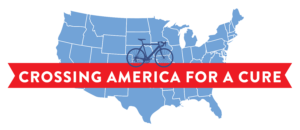 In 2013, Al DeCesaris set out on a solo coast-to-coast bike ride in honor of his niece Jenna, who was born with Sturge-Weber Syndrome, a rare neurological disorder. Pedaling on average 75 miles per day, he rode from Santa Monica, California through 14 states and over 3,000 miles before completing his remarkable bicycle journey in Ocean City, Maryland. Through Crossing America For A Cure, he created awareness about Sturge-Weber Syndrome across the country, raised critical funds for medical research, and brought hope to Jenna and countless others suffering with this devastating disorder.
Starting/ending locations and number of miles covered:
Day 1 (9/8/13): Santa Monica, CA to Santa Clarita, CA [45 miles]
Day 2 (9/9/13): Santa Clarita, CA to Apple Valley, CA [71 miles]
Day 3 (9/10/13): Apple Valley, CA to Barstow, CA [41 miles]
Day 4 (9/11/13): Barstow, CA to Ludlow, CA [53 miles]
Day 5 (9/12/13): Ludlow, CA to Needles, CA [93 miles]
Day 6 (9/13/13): Needles, CA to Kingman, AZ [57 miles]
Day 7 (9/14/13): Kingman, AZ to Kingman, AZ [25 miles]
Day 8 (9/15/13): Kingman, AZ to Seligman, AZ [87 miles]
Day 9 (9/16/13): Seligman, AZ to Flagstaff, AZ [80 miles]
Day 10 (9/17/13): Flagstaff, AZ to Holbrook, AZ [91 miles]
Day 11 (9/18/13): Holbrook, AZ to Gallup, NM [94 miles]
Day 12 (9/19/13): Gallup, NM to Grants, NM [69 miles]
Day 13 (9/20/13): Grants, NM to Albuquerque, NM [85 miles]
Day 14 (9/21/13): Albuquerque, NM to Santa Rosa, NM [108 miles]
Day 15 (9/22/13): Santa Rosa, NM to Tucumcari, NM [62 miles]
Day 16 (9/23/13): Tucumcari, NM to Dalhart, TX [94 miles]
Day 17 (9/24/13): Dalhart, TX to Liberal, KS [112 miles]
Day 18 (9/25/13): Liberal, KS to Greensburg, KS [102 miles]
Day 19 (9/26/13): Greensburg, KS to Cheney, KS [80 miles]
Day 20 (9/27/13): Cheney, KS to Eureka, KS [96 miles]
Day 21 (9/28/13): Eureka, KS to Iola, KS [51 miles]
Day 22 (9/29/13): Iola, KS to Weaubleau, MO [106 miles]
Day 23 (9/30/13): Weaubleau, MO to St. Robert, MO [93 miles]
Day 24 (10/1/13): St. Robert, MO to Gray Summit, MO [94 miles]
Day 25 (10/2/13): St. Louis, MO
Day 26 (10/3/13): Gray Summit, MO to Collinsville, IL [60 miles]
Day 27 (10/4/13): Collinsville, IL to Salem, IL [68 miles]
Day 28 (10/5/13): Salem, IL
Day 29 (10/6/13): Salem, IL to Bedford, IL [148 miles]
Day 30 (10/7/13): Bedford, IL to Versailles, IN [72 miles]
Day 31 (10/8/13): Versailles, IN to Cincinnati, OH [68 miles]
Day 32 (10/9/13): Cincinnati, OH to Piketon, OH [76 miles]
Day 33 (10/10/13): Piketon, OH to Athens, OH [67 miles]
Day 34 (10/11/13): Athens, OH to St. Mary's, WV [68 miles]
Day 35 (10/12/13): St. Mary's, WV to Wheeling, WV [67 miles]
Day 36 (10/13/13): Wheeling, WV to West Newton, PA [55 miles]
Day 37 (10/14/13): Pittsburgh, PA
Day 38 (10/15/13): Pittsburgh, PA
Day 39 (10/16/13): West Newton, PA to Meyersdale, PA [84 miles]
Day 40 (10/17/13): Meyersdale, PA to Little Orleans, MD [78 miles]
Day 41 (10/18/13): Little Orleans, MD to Harpers Ferry, WV [82 miles]
Day 42 (10/19/13): Harpers Ferry, WV to Washington, D.C. [65 miles]
Day 43 (10/20/13): Washington, D.C. to Annapolis, MD [41 miles]
Day 44 (10/21/13): Stevensville, MD to Georgetown, DE [61 miles]
Day 45 (10/22/13): Georgetown, DE to Ocean City, MD [39 miles]
TOTAL NUMBER OF MILES COVERED: 3,088
What was the total number of miles Al rode?
3,088 miles
Average number of miles per day: 75 miles
Most miles ridden in one day: 148 miles
Least miles ridden in one day: 25 miles
How many days was Al on the road?
45 days
Total of number of days: 45 days
Number of riding days: 41 days
Number of days off: 4 days
How many states did Al ride through?
14 States
The states Al rode through were California, Arizona, New Mexico, Texas, Oklahoma, Kansas, Missouri, Illinois, Indiana, Ohio, West Virginia, Pennsylvania, Maryland, and Delaware. Note: Al also rode through Washington, D.C.
How many Centuries did Al ride?
5 Centuries
A Century is a ride of 100 miles or more in a 12 hour period. Prior to setting out, Al had never rode more that 45 miles in a 12 hour period.
How many people rode with Al?
5 Guest Riders
Dr. John Wall (Day 1), Mark Espelien (Day 14), Joe DeCesaris (Days 41 and 42), Julia Heck (Day 43), and Bob Stanger (Days 44 and 45).
How many flat tires did Al get?
2 flat tires
On Day 7, Al got back-to-back flats while riding out of Kingman, AZ. As a result, he was unable to continue on that day and returned to Kingman. The flats were caused by a wire filament most likely from a steel-belted radial tire.
What kind of bicycle did Al ride?
Novara Randonee
The Novara Randonee (by REI) is a classic touring bicycle with a chromoly steel frame and a rear rack that held two panniers with roughly 45 pounds of gear.
How many calories did Al take in each day?
On average roughly 5,000 calories
Al's daily menu typically consisted of waffles, oatmeal, eggs, bacon, fruit, muffins, Clif Bars, and an entire large cheese pizza with grilled chicken.
How many times did Al crash his bicycle?
1 crash
On Day 23 while riding through Missouri, Al caught his front tire on a rumble strip and was throw from his bicycle. Luckily, he only suffered minor injuries and was able to continue on.
In Each Of Us Is The Power To Make A Difference!